Google Couldn't Make Updating Spreadsheets Any Simpler
I caught this article the other day about how to set up a spreadsheet in Google Docs that can be updated at anytime by emailing the form to yourself. So if you have something that you track throughout the day or week, it works perfectly.  I was able to take this one step further and by adding the additional step, I don't even have to be in my Gmail account.
I'll start the steps from the beginning:
1. Create your spreadsheet in Google Docs via their spreadsheet program – pretty much like Excel.
2. When you have that completed go to Tools > Create Form in the menu bar
3. Edit the form to add exactly what you want the form to say and the items you want recorded as it will have picked up all the columns you have created previously on your spreadsheet.
4. Click on "Email this form" and email it to yourself.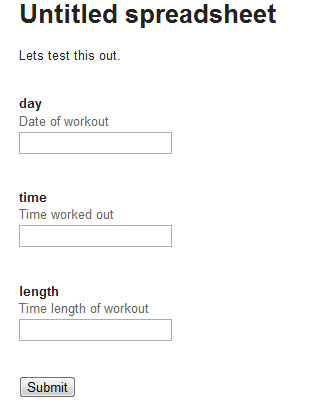 You will receive an email with a  fill-in form like this:  (Note: This was my practice sheet so it is nothing fancy.)
You can then fill in the blanks via the email you received and hit submit any time you want to update the spreadsheet. Now for the one step further.
There will be a link at the top of the emailed form stating: If you have trouble viewing or submitting this form, you can fill it out online:  https://docs.google.com/spreadsheet/viewform?fromEmail=true&formkey=dE96TjQybk84S2QxQmpSSmJjUXAwLWc6MQ
Open the form via that link, and then use your browser to save it to your desktop or where you prefer.  (If you are using Chrome click on the wrench in the upper right hand corner > save page as > choose where you would want to save it like the desktop and save.  Firefox you save page as.  IE8 – Click on the gear in the upper right > file > save as.)
As I am always logged into my Gmail account, I wanted to see if it would work okay being logged out – so I closed out my account and opened the form via my desktop, filled it in and clicked save.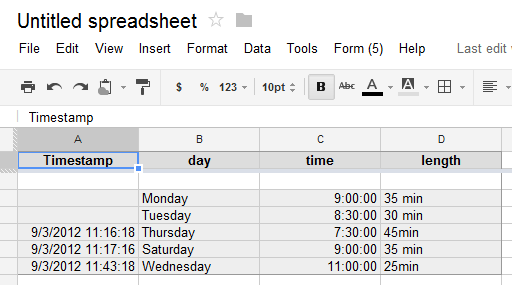 The information was still saved directly to my original spreadsheet in Google Docs due to this link in the email being an online version of the form emailed to you. It even time stamps it when you update the spreadsheet through the form! (Monday and Tuesday were manually entered when I created the sheet.) I'm much happier having this link to the form on my desktop as I like to keep my inbox clean and don't like things hanging around in there too long. So saving this on my desktop works great for me.
It can't get much easier than that to track something on your own customized spreadsheet.  Let me know how it works for you.