Google has recently stated that if a Google My Business account has been inactive for at least 6 months, Google is UnVerifying the account / business.

What Does That Mean?
It means anyone managing a Google My Business page needs to log-in and/or update their page; they are saying at least once every six months. Personally, I'm going to suggest at least once a month if you are not using your Business Page regularly. If you manage bulk pages, let me know how that once every six months works out for you. I'm curious.
Since this original news hit main stream media, Jade W. in Google and Your Business Forum states: "In some cases, we may contact Google My Business users via email to confirm that they are still actively managing a business page. If a user is unresponsive to our attempts to contact him or her and has not logged into Google My Business for a significant length of time, then we may unverify pages in the account. We're doing this in order to continue to provide users with the best experience when they're looking for local businesses like yours. If you find that a page in your account has been incorrectly unverified, please contact support to get assistance restoring verification.
It's a good idea to keep an eye on the inbox associated with your Google My Business (Locations) account. It's also a good idea to regularly log into Google My Business (Locations) to confirm that your business information is current and accurate."
How Do I Know if My Page is Verified?
How can you tell that your Google My Business page is verified? Notice the little check-mark next to my boomerang logo.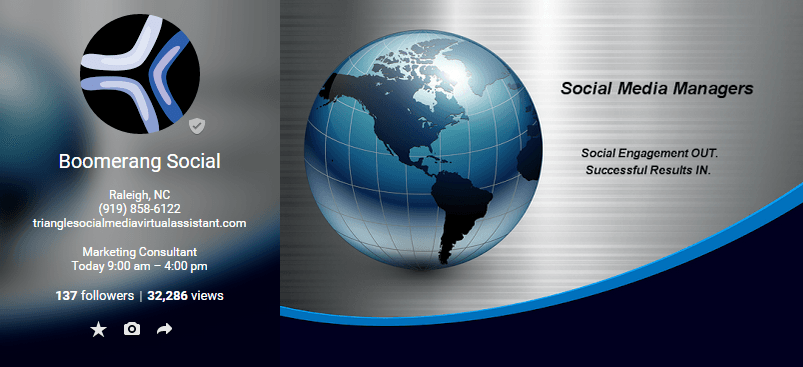 That means it is verified and it will come up when searched on maps. If you hold your cursor over it on your Business Page, you will see it says "Verified Local Business."
Why is unverifying your Google My Business page not good? It will pull you off of Google map search for one thing. Business pages have to be verified to pull up on maps and in the Google directory. After all, that is one of the main points of it all.
Mike Blumenthal notes: "I assume that it keeps their list more up to date and helps purge stale listings that have gone out of business which otherwise could not be pruned because they are verified. It might also have to do with Google's current plan of "owning" the listings rather than renting them."
Mike has also verified that posting to your Google+ account qualifies for updating it. He is checking on whether working in admin capacity is good enough to satisfy them or if it has to be a direct log-in. I'm sure more will be changing shortly so stay tuned!
If you have any questions regarding this, shoot me an email at Colleen@Boomerang-Social.com